The artists involved in SECOND BREATH are:


Gillian Lacey, filmmaker
Maurice Blik, sculptor
Alex Balanescu, composer and violinist
Gemma Carrington, animation director

SECOND BREATH
is an installation and performance inspired by the story of the sculptor Maurice Blik, who was taken from his home to Belsen Concentration Camp in the Second World War. Many of his family were murdered, but Maurice, with his mother and sister, survived, and whilst on one of the last trains to a death camp was liberated by the Russian Cossacks. His subsequent work has been about awakening, finding freedom and taking a second breath…
Filmmaker Gillian Lacey, inspired by Blik's sculpture, has created an integrated and flexible performance piece.

Maurice Blik's bronze sculpture portrays strong figurative forms, full of movement and energy. The sculpture has been filmed for SECOND BREATH and is cut together with archive




footage, family photographs, and other material relating to Blik's life.

The Family photo sequences have been created by Gemma Carrington.The film sequences will be projected into the performance area, fading in and out of darkness. With Gillian Lacey directing, the 'frozen choreography' of the sculpture is interpreted by violinist and composer Alex Balanescu.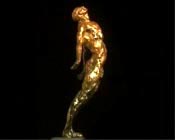 Click next below to continue